DM7A - July 2008 Results and Pictures
---
DM7A - QTH Fichtelberg, JO60LK, 1207m ASL
Results by bands
Team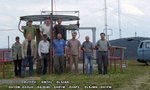 DG2DWL, DG3UH, DH1DM, DH1FM, DH5FS, DH5YM, DJ1YFK, DL3JAN, DL5JMN, DM1KL
Comments
Nice condx, lots of good DX on the microwave bands.
Video
We had a live webcam in the operating tent this time, which uploaded a new picture every few minutes to our website.
Below is a video showing the whole 24h of the contest in just 60 seconds. Left to right (clockwise): 23cm, 13/9cm, 6/3cm, 70cm.
The player will show in this paragraph, if you have Javascript enabled and Flash installed.
Pictures
by DJ1YFK
by DH5YM
DJ1YFK sleeping
Big Brother with Webcam
ZZzz
Fabian woke up...
Tilo (9/13cm) and Jan (3/6cm)
70cm
Big Brother 2.0
by DH1FM
| | | |
| --- | --- | --- |
| | | |
| Test with OK2PWY | in JO80HB | on 24GHz |
| | | |
| DM7A at night. | | Big Fichtelberg |
---